For Breakfast
Breakfast Burritos
Make breakfast burritos ahead of time filled with any of your family's fav ingredients. Wrap them in foil and put them in the cooler. Let them heat up in hot coals for breakfast!
Check out the full recipe here: Breakfast Burritos - Campfire Style - Taste and Tell
Cinnamon Rolls in Oranges
Cut a circle out of the top of an orange. Scoop out the flesh of the orange and put in a bowl to munch on. Fill the hollowed out orange with a cinnamon roll, wrap in foil, and place directly in the coals of a fire. The orange protects the roll from getting charred and the rolls get infused with a delicious orange flavor.
Check out the full recipe here: Campfire Orange Cinnamon Rolls | Oleander + Palm
For Lunch/Dinner
Pizza Log
This is a super easy recipe that can feed the masses! Roll out pizza dough, add sauce, cheese, and all your desired toppings. Roll the pizza up into a log formation, tuck the edges, and wrap in thick foil. Keep the log in the cooler and then heat over the fire, flipping once, when you're ready to chow!
Check out the full recipe here: Campfire Pizza Log
Mexican Street Corn
We <3 Mexican Street Corn. Grill the corn and then smear on a mixture of mayo, sour cream, and cilantro. Sprinkle with some lime juice, parm, and chili powder! You can make the smear before hand! YUM!
Check out the full recipe here: Mexican Street Corn Over A Campfire - Saving Money Camping
Taco Bags
This recipe is great for camping because it doesn't require any plates to clean up. Cook ground meat and season. (You can cook before the trip and just warm the meat on the grill or fire) Fill mini Frito bags with meat, beans, cheese, and any other taco toppings!
Check out the full recipe here: Walking Tacos
Mac and Cheese
Pre-make mac and cheese and place in pie tins covered with foil. Heat on a cooking rack over coals. You could make some boxed mac or check out this easy homemade mac recipe: Camping Mac n' Cheese | Lauren's Latest
Foil Bake Packets
For a more gourmet camping meal, make a foil packet filled with veggies and meats. There are so many combos of ingredients you can fill a foil packet with and cook over coals. We usually use one meat like chicken, salmon or shrimp and fill the rest of the packet with veggies like zucchini, asparagus, and peppers! Check out this yummy recipe for a Cajun inspired shrimp boil foil packet: Shrimp Boil Foil Packets - Damn Delicious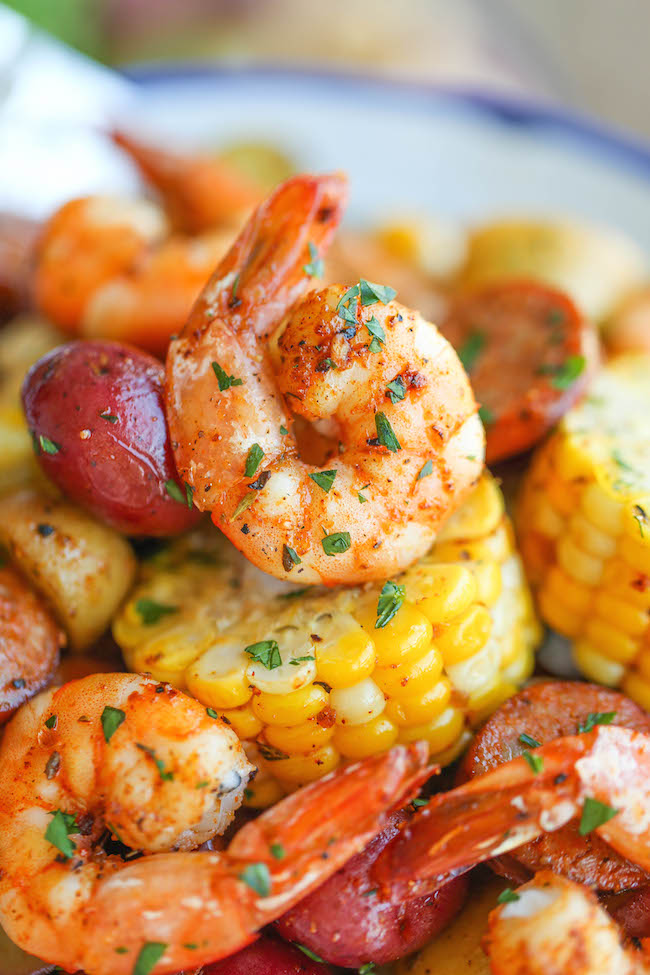 Dessert
S'mores Banana Boats
Place a banana (peal and all) in foil, cut the banana in half and fill it with chocolate chips, marshmallows, and Golden Graham's cereal. Heat over coals. (We like to convince ourselves the banana makes this one a healthy version of s'mores).
Check out the full recipe here: Campfire S'mores Banana Boats recipe from Betty Crocker
S'mores in a Bag
Roast marshmallows and throw in single serving bags of Nilla wafers, Teddy Grahams, or animal crackers with some chocolate chips! This way eliminates some of the mess that comes with traditional s'mores.
Check out the full recipe here: S'mores in a Bag